The packaging industry
Glue and adhesives for the packaging industry.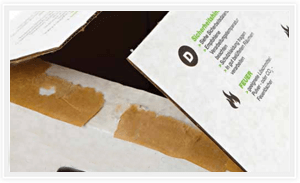 Packaging glue, packaging production, the sealing of cartons
Glue and adhesives for the packaging industry. Industrial glue for the sealing of cartons, tray tapering, palletising, and folding carton. Our hot-melt adhesive is ideal for packaging applications such as the pasting down of cartons, carton sealing as well as for trays/cartons in corrugated cardboard.
PRO-GLUE has been focused on the packaging industry throughout all the years, and today the company boasts a full programme within hot-melt adhesives, water-based glue and adhesives for carton sealing, tray tapering and palletising.
Our extensive range of hot-melt adhesive for the packaging industry is renowned for its high adhesion capacity with respect to different types of packaging.
These hot-melt adhesives provide excellent adhesion to the different cardboard surfaces that are used in the production of folding carton designed to be dust proof.
The glue is extremely stable and our range of hot melt is ideal for different packaging applications such as the pasting down and sealing of cartons and corrugated trays and boxes in cardboard.
Our hot-melt glue is typically supplied in 14 kg plastic sacks equipped with a non-drip spout (756 kg/per pallet). Depending of the type of glue, however, the glue may be supplied in another type of packaging.
Over the years we have acquired considerable knowledge about most machines, and we shall be pleased to provide equipment as well as staff for a trial run.
Our infrared measuring equipment controls temperature while other equipment measures the surface tension of various surfaces such as e.g. PE, UV lacquer, etc.
If you are interested in a trial run or an inspection/adjustment of your glue plant, please contact us.
Download our programme of hot-melt adhesives (PDF file)