PRO-GLUE's history
From Bülowsvej in Frederiksberg by Copenhagen to Lille Skensved near Køge, and from Frede Andersens Fabrikker (Frede Andersen's manufacturing plants) to PRO-GLUE A/S.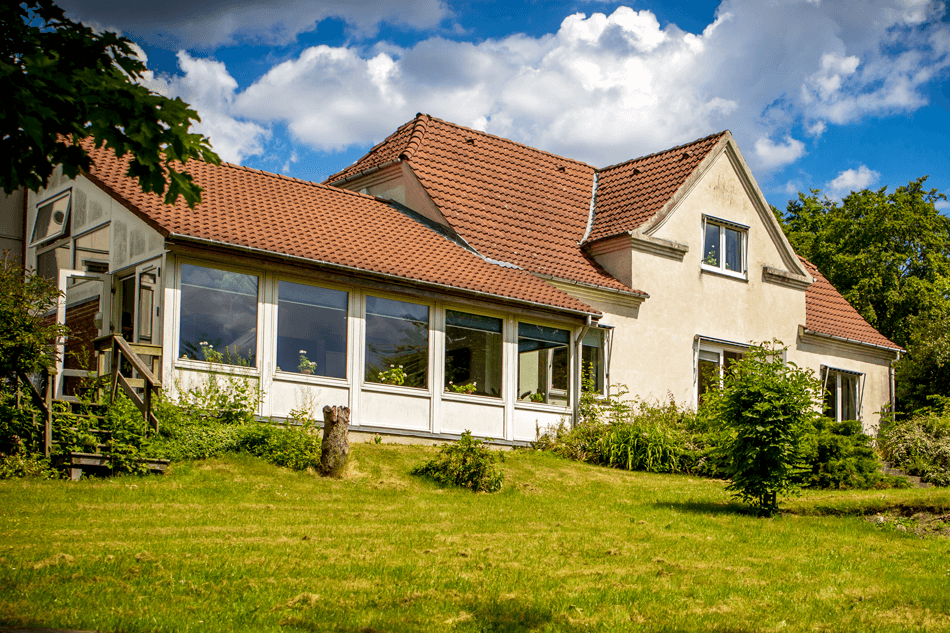 Read about PRO-GLUE´s history from the start-up in Frederiksberg by Copenhagen to today's factory in Lille Skensved near Køge.
Once upon a time there was a young engineer. His name was Frede Andersen, and he was employed in the dyestuff and paint industry…
In this exciting environment, he became interested in adhesive techniques. The knowledge he built up in this respect became useful during World War II and the occupation of Denmark, when the import of glue from the Netherlands came to a standstill.
The demand for glue was the originating cause of Frede Andersen's resignation from his job, his purchase of a boiler and of his moving into business premises on Bülowsvej in Frederiksberg. Using cornflour as a basis, he soon had a production going. The small glue factory soon became a success and, before long, Frede Andersen had to hire a staff.
After the war, Frede Andersen added more strings to his bow. Raw materials were no longer in short supply, and thus a basis for developing special glue types had presented itself. The customers increasingly sought specific solutions.
Thus, in the late 50s, he received an inquiry from the Danish brewery, Bryggeriet Tuborg, concerning the possibility of manufacturing a type of label glue which, albeit ice-water resistant, would wash off easily and yet be of properties facilitating the adhesion of a label to a wet beer bottle. This difficult problem was solved in 1961 where Frede Andersen arrived at a solution based on casein glue, a label glue based on milk protein instead of conventional plant-based glue.
The rumour of this successful production reached other Danish breweries and mineral-water factories; and soon the business had won renown as a specialist within label adhesives.
Having manufactured glue for 70-odd years, you have gained lots of experience. Particularly if, throughout all the years, you never ceased to experiment nor to subject your product portfolio to further development – a fact which actually came to constitute our very trademark – and still does to this day.
On 14 September 2010 the entire share capital of Lyckeby Industrial A/S was taken over by Managing director Jørgen Thaulov
This was a management buy-out of a well-functioning business comprising real property, production facilities, trademarks, patent rights, etc.
The change in ownership had no consequences for PRO-GLUE's own product range, production, trading conditions or service levels – just as negotiations concerning Beardow Adams Hot Melt were continued.
Thus, the production and development of glue on the basis of natural and reproducible raw materials which – as a point of departure – contain starch, dextrin, casein or other proteins, will continue to take place in Lille Skensved.
To the managing director, Jørgen Thaulov, it was of decisive importance that the company remained domiciled in Denmark. Jørgen Thaulov was employed by the business as a laboratory trainee in 1988 and, hence, it was important to retain good and reliable work places for colleagues, together with whom he had worked for many years.
The business is one among very few Danish manufacturers of industrial glue and, as a matter of fact, the only remaining producer of casein and dextrin glue in Denmark – glue types which are supplied to a number of Danish commodities producers. PRO-GLUE's niche in the market is the design of specific glue, from one assignment to the next, thus securing the optimal production for each individual customer.
Today, PRO-GLUE manufactures a wide range of industrial glue for customers round the world and, owing to close product collaboration with factories abroad, we can offer practically all types of industrial adhesives.
Welcome to PRO-GLUE – the manufacturing industry's preferred supplier.
Don't hesitate to contact us, if you have any questions or tasks. We shall, of course, always be at your service.